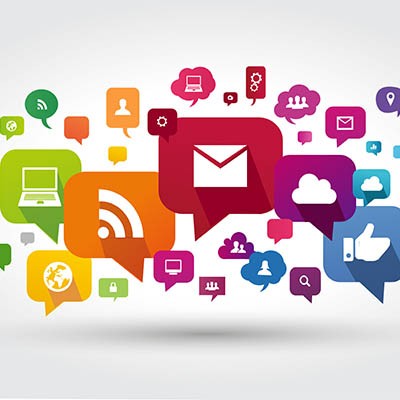 Communication tools are one of the cornerstones of any successful office. While you surely leverage certain communication tools, there are others on the market that might be great investments for your organization. Let's examine some of the many business communication solutions that your company can leverage to its advantage.
We'll focus our attention on three technology solutions that we think all small businesses should invest in.
Email and Instant Messaging
How does your business currently host its email infrastructure? Is it hosted in-house/on-premises? Is it secured properly? Are you able to access your work email on any approved devices? How about through the cloud? If you want to optimize productivity and efficiency, your goal should be to know the answer to all of these. Business Solutions & Software Group recommends that you work with us to set up a cloud-hosted email solution so your business can maintain operations even while remote; it sure beats managing your own email server.
Instant messaging is also an excellent tool for modern businesses. You can send an email to get a response from one of your coworkers, but if you need an immediate response, this is hardly a great method of outreach. You can get more urgent responses via instant messaging. Just make sure that you train your employees on how to keep this from becoming a distraction rather than a tool for productivity.
Intranet Solutions
Imagine that you are working on a project. Progress might be going swimmingly for a while, but then it is stymied by not having access to documents or the processes involved with a specific task. This happens all too often in the business world; documents are stored in inconsistent locations, employees aren't trained on proper processes or how to access various accounts. An intranet tool is a great way to prevent these roadblocks from becoming major issues.
An intranet solution gives your business access to a central location where internal documents can be housed, workflows can be detailed, and access to account portals or tools needed on a regular basis. You might be surprised by how much something so simple can impact your day-to-day actions.
Voice over Internet Protocol
Businesses use phones all the time for both internal and external communications, but your traditional landline is surely starting to show its age. Whenever you add a user to the network, you need to run new phone lines, hook up new hardware, assign extensions, all kinds of work. It's safe to say that this is not sustainable for a growing business.
VoIP, on the other hand, allows your business to add new users in a much easier way. Because the system is housed in the cloud and accessed from a device or desktop, all it takes is setting up an account and downloading the appropriate app. Employees can use their work phone numbers on their personal devices, and since this solution is so scalable, there is no reason to consider a landline any longer--especially not with all major features like call forwarding, routing, conference calling, etc being available with VoIP.
If your business needs a hand with upgrading its communication infrastructure, Business Solutions & Software Group can work with you to set one up that best suits your specific needs. To learn more, reach out to us at (954) 575-3992.