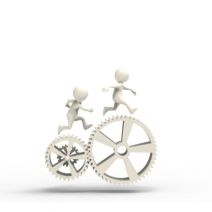 For eons, the human species has sought to improve efficiency through the integration of new innovative technologies. We always push toward the bright new future, a garden filled with shimmering hardware and the sweet, sweet smell of silicon. Everything is running smoothly, just like music, until you hear a note that doesn't belong. Instead of a chorus of heavenly angels serenading you as you open the door to your server room, you hear the sound of failure; hardware failure, to be specific; and it's not pretty.
What used to seem like utopia can quickly lead you down a dark and lonesome road to downtime. It's these unfortunate circumstances that make running your business vastly more difficult. Without access to mission-critical applications or the necessary software, your business stands to lose both time and assets, not to mention compliance issues and potential lawsuits.
In order to get back in the game, you need to return to your technology paradise as quickly as possible. Thanks to innovations like Business Solutions & Software Group's Backup and Disaster Recovery (BDR) solution, you no longer have to fall behind when your operations fail unexpectedly. Using the latest and greatest in managed service technologies, your business can immediately resume operations following a critical disaster that puts your business's future on the line.
A quality backup and recovery system can go a long way toward improving your business's day-to-day operations. Most businesses run tape backup, and it's enough to get the job done; but just barely. In terms of overall efficiency, tape backup isn't nearly as user-friendly as our BDR solution. Tape backups are generally performed only once daily, and after-hours to avoid putting unnecessary strain on the server. What's worse, these backup solutions must be initiated manually, and are prone to user error, making them potentially unreliable.
Our BDR solution avoids this possibility by providing automation at every turn. Rather than only taking one backup a day, our BDR takes multiple snapshots throughout the workday to give you the most recent copy of your data, right up until disaster strikes. These snapshots are stored off-site and out of mind in our secure data center, so you know exactly where it is in the event you need to restore your data.
Furthermore, our BDR device can act as your server should you be threatened by unexpected downtime. This is most helpful if you experience hardware failure. Our BDR device effectively resumes the server's role until you make arrangements for your old server to be replaced.
Whether or not you make IT utopia a reality is up to you, but if you can improve operations and increase efficiency, what have you got to lose? Give Business Solutions & Software Group a call at (954) 575-3992 to discuss the future of your business, and how you can protect your data from the host of threats and variables that are known to destroy businesses like yours.