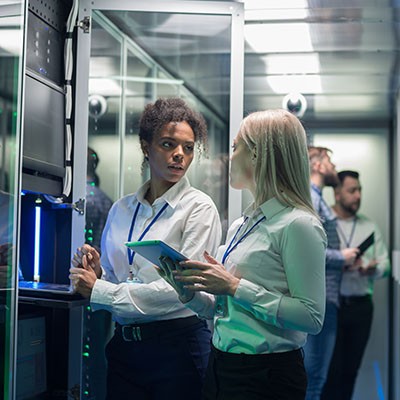 When it comes to your business technology, you cannot overlook any of your expenses, including downtime and productivity. You'll want to make sure that your team has the tools they need to be successful while also ensuring that those tools are maintained by professionals. Let's examine how managed IT services can help you make this happen.
Managed services are the key to helping small and medium-sized businesses stay productive and profitable. Today, we wanted to share just how managed services create a value proposition for your organization well beyond the simple capital costs of IT.
Improved Uptime
Managed services dramatically increase the uptime associated with your IT resources. Downtime can be devastating for productivity, as nothing is getting done during that time, and it is often associated with technology failing or waiting to address specific issues. If you want to increase productivity, maintaining your IT becomes key.
Managed service providers monitor and maintain your business' technology infrastructure so that issues can be detected and resolved before they become serious downtime-causing problems. By having trained technicians use their knowledge and expertise to keep your technology running at top efficiency, you can rest assured that your productivity levels remain constant throughout the workday.
More Effective Security
Security is a major pain point for businesses, but the average user might not know how big of a deal cybercrime can be. Our technicians understand the importance of security in the face of such threats, and we want to help you best protect your organization. With our perspectives and experience to call upon, you can rest assured that your technology is protected at all times.
Our approach to security is simple, yet powerful. First, we examine your current infrastructure and detect potential issues that must be addressed. We then use enterprise-grade security solutions to continuously monitor it. We also take steps to ensure that all of your software is patched and up-to-date with the latest threat definitions. Finally, we conduct regular reviews to see how your organization's security measures hold up to the current state of the threat landscape and emerging threats. Combined with penetration testing and cybersecurity training, you can be sure that everything possible is being done to keep your company secure.
Establishing Continuity
An MSP can provide exceptional value in how it helps your company respond to operational problems of all kinds, including those which threaten business continuity. With a comprehensive data backup and disaster recovery plan in place, we can restore your business' applications and data at a moment's notice so that there are no operational disruptions in the face of a disaster.
These types of disasters can happen even when you least expect them, so they need to be considered a priority on your disaster preparation list. If you go long stretches of time without access to your infrastructure, your company's future is on the line. Working with an MSP mitigates this risk considerably.
Affordable Costs
Most businesses find that costs are a major problem for their IT. The technology is expensive in its own right, but when you consider how it has to be maintained by experienced and knowledgeable professionals, it becomes even more costly. If you hire three IT administrators to manage your company's IT, for example, that could be well over $200,000 a year in salary, payroll taxes, and other costs.
Business Solutions & Software Group helps you get the technical expertise you are looking for at a fraction of the cost of hiring internal IT experts. You'll get the right technology for your business at the right cost, as well as the right kind of management and maintenance to suit your company's needs.
To learn more about how Business Solutions & Software Group can be your go-to IT resource, be sure to call us at (954) 575-3992.