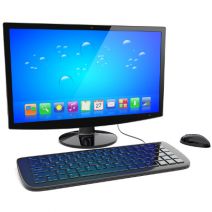 It's fun to find new ways to customize your PC's desktop to fit your taste and personality. In fact, we bet that your current wallpaper image speaks volumes about who you are. Did you know that you can even adjust your desktop's icon sizes?
There are several possible reasons as to why you would want to change the size of your desktop icons.
It may be that you have simply run out of space on your desktop and instead of taking the time to delete unused icons, you find it easier to just make the icons smaller to open up more desktop space (not a best practice). Or, maybe your eyesight would prefer the icons be just slightly larger. Or better yet, making the icons as large as possible makes for a quick office prank whenever a co-worker leaves their computer unattended and unlocked (again, this might not be a best practice).
Whatever reason you have for adjusting your desktop's icon sizes, here's how you do it. It's as easy as clicking the desktop to activate it, holding down the [Ctrl] Key, and then moving the mouse scroll wheel forward or backward to adjust the icon sizes to be smaller or larger. You can make a subtle adjustment that's not too noticeable. You can make the icons super small; or, you can have a single icon to take up most of the screen.
Alternatively, you can adjust the icon sizes by right clicking the desktop, going to view, and then selecting Large icons, Medium icons, or Small icons.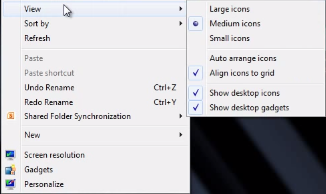 Using this desktop menu is an easy way to return the desktop icons to their normal size by selecting "Medium icons."
What's your preferred desktop icon size and what's that say about you? How well would your co-worker react to returning to their computer and finding their icons to be ginormous? Let us know in the comments.