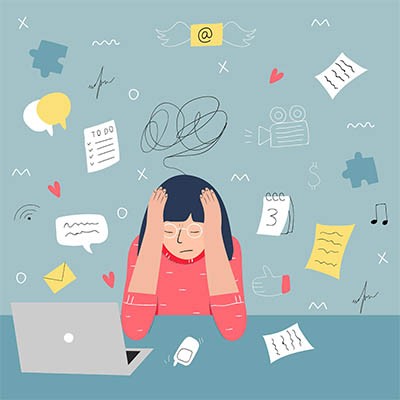 When so many shifted over to remote operations during the pandemic, it threw a sizable number of them for a loop. It has taken about a year for the shift to settle in, in fact, and so people everywhere are finally starting to feel the impacts of prolonged remote work. One considerable impact: the fatigue that the digital communications required have brought about, and how overwhelmed your team may feel as a result.
Here, we'll discuss the concept of communications fatigue, and how you can keep it from interfering in your business' productivity.
Defining Communications Fatigue
Consider how many digital messages need to be exchanged in business, especially once there is no longer the opportunity to communicate face-to-face with coworkers. As you can imagine, this single wrench in the works can double or even triple the number. People working from home throughout the time since the pandemic started have spent over a year dealing with that volume of messages… a level of stress that even the freedom to work in pajama pants can't resolve.
At this point, fielding and responding to messages seems to take up half the time a worker spends working—not a great thing for their productivity or, evidently, their frame of mind. This is only exacerbated by the tendency that a large portion of these messages simply aren't pertinent to the recipient, serving as nothing more than a distraction from their pressing work.
Hence, communications fatigue. All the video conferences and meetings add up to agita, causing workflows to crumble, productivity to falter, and your team to burn out.
Fortunately, this isn't a foregone conclusion. Let's explore a few ways that communications can be improved so that these aftereffects can be mitigated.
What Improvements Can My Company Make to Communications?
Like most business changes, these shifts need to flow from the top to bottom. Without the opportunity to cultivate face-to-face conversations, management needs to be ready to address the fact that these messages are likely going to create stress and implement better ways for the business to share the information needed.
Here are a few suggested routes to take:
Be Succinct
When interacting within your team, time really is of the essence. Plus, how many of your team members really have the time to spare reading through paragraphs and paragraphs when a single sentence could say the same thing?
Not many, which is why you need to keep your messages direct and to the point—particularly in times of high stress and pressure. Keeping the language simple and clear will help to make your messages immediately understood, helping to preserve your workflows and sidestep redundancy.
Send Less
Of course, one way to keep yourself and your team from communicating to excess is to simply remain mindful of how often you are sending messages, and make sure your team is doing the same. Rather than sending your team members multiple messages to get a single point across, keep in mind that doing so will largely distract them from the goals you want them to accomplish. You also need to consider what mediums you're trying to send these messages in. A message that only one person needs to see is a message that doesn't need to be sent to a group, so make sure you're specifically sending messages to those who need them to prevent collateral inconvenience.
Pertinence
This ties into the above point, but try to keep your messages directed to those they apply to. How often have you received a notification as you were in the middle of a process, only to discover that it had nothing to do with you once you broke your focus and transitioned to it? Too many messages like these, and the notification will quickly be ignored as it comes in and create operational issues.
Whether or not remote work is a permanent fixture, the communication skills that support it are essential to cultivate for the long term. Business Solutions & Software Group can help you put the tools in place to manage these critical communications. Give us a call at (954) 575-3992 to speak to our team of experts today.