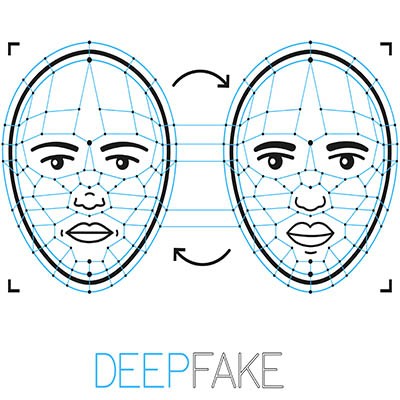 Would you believe us if we told you that the maps we have grown up looking at are remarkably skewed? That pull-down map in the front of every elementary school classroom probably wasn't to scale, for one reason or another. Modern technology can make it possible for hackers to skew satellite imaging, and this could very well be used in the cybercrime avenue in the future. The developing technology of deepfake images could bring about a whole new type of threat.
What Are Deepfakes?
Thanks to the advent of artificial intelligence, deepfake images—images or videos that have been altered or revised to misrepresent the image or video in some way—are more popular than ever. There are tons of not-so-serious examples out there, like face swapping applications or mobile applications that allow for lip-synching videos from a still image, all of which are growing in popularity.
Other, more convincing examples of deepfake technology also exist. Take, for example, this website: This Person Does Not Exist. Using a generative adversarial network, the website can create a convincing face, despite the person not existing at all. Every time the page is refreshed, a new face will pop up that looks just like a real person. Now, imagine the security ramifications of this technology being used in the wrong hands. Quite shocking, right?
Deepfake technology poses a serious threat to security. One such example is explicit deepfakes depicting people in adult situations without their consent which can be used for blackmail. Others can be used for political gain to influence the results of elections. They are even used to doctor images taken by satellites to create geographic deepfakes.
What Are Geographic Deepfakes?
Rather than manipulating someone's face or the words said, geographic deepfakes change satellite imagery to obfuscate our impressions of the landscape around us. If deepfake imagery continues to improve, it could have considerable ramifications, creating no shortage of problems for businesses and the government.
How They Can Be Abused
Here's a scenario to ponder; let's say that a platoon of soldiers is marching on a target. There is a nearby bridge that will bring them to their target. Satellite imaging might show that the path is clear and that the bridge is right where it's supposed to be, but what if that satellite imaging cannot be trusted? Enemies might have taken the bridge, or the bridge might not exist at all, ruining plans and risking loss of life. The latter possibility was proposed in 2019 by a National Geospatial-Intelligence Agency analyst named Todd Myers, and this draws from a tactic that has been around since the implementation of maps as a whole.
Outside of war, this could also affect business directories, land ownership, navigation, and have other ramifications.
But Maps Have Always Been Changed
There is historical precedent to suggest that maps have played a key role in disinformation campaigns, propaganda, and copyright in cartography. Mapmakers could easily identify if a map has been copied from their original due to the existence of towns or features that simply were not there in reality, that the original cartographer had added into the original document.
Geographical deepfakes make this process much more complicated, according to an academic study published by the University of Washington.
This study provides a brief overview of the long history of map manipulation which goes all the way back to the Babylonian fifth century B.C., while also focusing on the more modern applications of such a practice. The study addresses topics such as location spoofing and how it can be weaponized, as well as proofs of concept that lend credence to the possibilities. If nothing else, the study makes it clear that satellite deepfake technology and the convincing images it can provide have the potential to be a very real threat.
It also does not help that people tend to trust maps without second-guessing them at all. People use maps when they don't know where they are going, so it makes sense to put some trust in them, right? Researchers have started development of tools that can identify deepfakes, but these tools will require constant updates to make sure they can keep up with those utilizing this technology (like any other security-related technology or software).
What Can We Learn?
It will likely be some time before these threats make their way into the mainstream, but it is always best to stay ahead of the curve and ahead of potential problems they might cause. Imagine the aforementioned scenario with the bridge being missing; the same issue could be applied to the supply chain or your business. Cyberattacks also lead to others implementing similar tactics, as seen with threats like successful ransomware attacks, so you can count on cybercriminals adopting practices used by other successful hackers.
In the meantime, however, the best plan of action is to take every chance you can get to optimize security for your business. We recommend protecting against not only present threats but future ones as well through the use of proactive measures that can keep issues from developing into bigger problems later on down the line. Business Solutions & Software Group can help you implement these types of security measures. To learn more, reach out to us at (954) 575-3992.