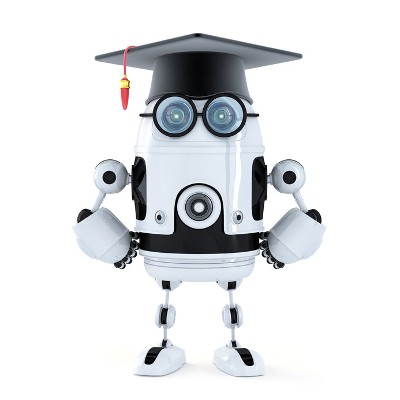 More students today are earning online degrees than ever before. Thanks to online learning management systems, the classroom experience can marginally be replicated in an online environment. One of the biggest problems associated with online teaching, however, is that students have trouble getting the attention they deserve. Enter: Artificially intelligent teaching assistants.
Teaching assistants have traditionally acted as an aid to the professor who's teaching the class. Depending on the professor's workload, they would handle duties like administering tests, handing out homework assignments, and most important of all, helping students who need questions answered or don't fully understand the topic at hand. If students don't get this attention, they often will find themselves stressed to the point of dropping out or failing the class.
In order to fill this deficit in assistance, universities have been experimenting with artificially intelligent "robots" that are capable of helping students get the help they need. Jill Watson, a robot used as a TA for a Knowledge-Based Artificial Intelligence class at the Georgia Institute of Technology, was built to help students grasp the core curriculum of the class. In fact, she was so helpful that the students didn't even know she was a robot!
For those unfamiliar with how online teaching works, most learning systems use a discussion board interface that allows students to ask questions and receive help from TAs or the professor. ComputerWorld reports that the KBAI class is offered every semester and sees roughly 10,000 messages in its online forums, all of which need an answer. Naturally, this is far too many questions for any one professor to respond to, so implementing TAs and AI was a natural step forward.
Ashok Goel, the professor in charge of teaching the KBAI class, and his team of graduate students, trained Jill on the 40,000 potential questions that have been asked since the class was first introduced in the fall of 2014. As you might expect, students ask a ton of questions, with many of them being the same, which makes AI an attractive choice for responding to these inquiries.
Jill's first few weeks working as a TA were a bit rocky. Her answers were often unrelated to the topic or taken out of context based on keywords. Once the engineers who designed her tinkered with her a bit, she was capable of answering questions accurately about 97 percent of the time. ComputerWorld states: "Initially, the human TAs would upload her successful responses to the students, but by the end of March, Jill didn't need any assistance. She wrote to the class directly if she was 97 percent positive her answer was correct."
This recent technology is also being used for many businesses. Utilizing automated "chatbot" solutions, businesses can divert some of their basic support to a carefully programmed AI. This AI is simply taught to look for certain keywords in questions, and then pulls up the appropriate answer to help the customer. In the event that the chatbot's resources are exhausted and it can't help the customer, it will drive the customer to a live person for a more hands-on approach. These solutions are reachable for small businesses, too - many of them just require time and careful planning to set up, so if you are tracking the types of questions that often bog down your customer service, you can automate them.
As the ability to differentiate between a robot and a human continues to decrease, what's next for the world of artificial intelligence? Will we have AI teachers in the future? Can this be considered a good development? Share your thoughts in the comments, and be sure to subscribe to Business Solutions & Software Group's blog.