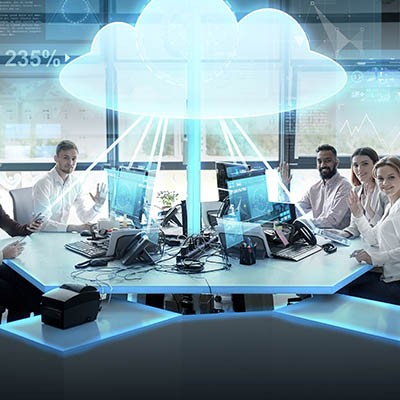 Business is moving faster than it ever has and a lot of that uptick in productivity comes from the speed of the computing networks that are being used. Cloud computing is a big benefit for most businesses because it extends the reach of the business outside the confines of the brick and mortar place of business. Today, we'll look at some of the major benefits that cloud computing brings to the modern small business.
Efficient Team Collaboration
Probably the most important consideration of rolling out a cloud platform for your business is the collaborative benefits that it brings. Since the cloud applications, infrastructure, or storage is hosted on computers outside your business and accessed through a web client or web browser, they can provide support for multiple users at a time. Many of these constructs allow for real-time collaboration irrespective of the users' geographical location.
User Tip: To get the most out of your team, consider adding in software that comes with mobile apps that allow for collaboration from smartphones.
Productivity, Productivity, Productivity
Studies have shown a major bump in productivity with the use of cloud. In fact, productivity for small businesses can improve operational efficiency up to four times. This means that four times as much can get done than with traditional computing structure. This uptick is largely fueled by the increased speed each task can get done with their collaborative features.
User Tip: To boost productivity, cloud computing platforms have to be managed effectively. While cloud providers mainly handle the maintenance and security of the cloud resources your company uses, ensuring that someone is in charge of keeping files and resources managed properly is important.
Save or Re-organize Capital
For the business owner, this is undeniably the major reason to commit to cloud computing. You can save money in several ways. Firstly, you don't have to roll out a server, and the thousands of dollars that accompany that whole process. Instead you just pay for the computing that you use for any given month. This is very attractive for businesses that need to scale their computing needs up and back frequently.
The second way a business saves money with the cloud is in management and security. By playing for cloud services, you curtail a lot of management costs that are typically associated with having enterprise software. Your business gets the latest version of the software, providing access to all new features, and security patches, as they happen.
The final way your business saves money is on the actual hosting of the hardware. Utility costs like electric and HVAC can cost companies a pretty penny. Those costs are rolled into the solution drastically reducing operational expenses and the space needed to properly host large centralized computing systems.
Overall, a business' cloud resources can be looked on as an operational cost, making it easier to manage.
User tip: if you are looking at migrating your company's computing to the cloud, start small. This ensures that the cloud is right for your company. For example, if your industry operates under strict regulations, public cloud platforms may hinder your business' ability to comply with these mandates. Dipping your proverbial toe in the cloud pool to see how it affects your business is a solid practice.
If you'd like to talk to one of our IT professionals at Business Solutions & Software Group about expanding your business' reliance on cloud computing, call us today at (954) 575-3992.