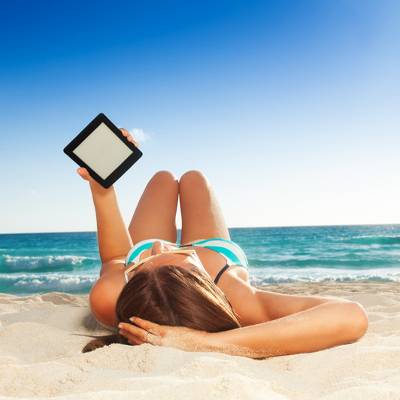 Most people associate the summer with a vacation of sorts, and many business owners might think that it's time to pack up and disappear for a while. But what some people might not realize is that a tablet is the perfect size for a summer getaway, and can enhance your leisure time while still being connected to your business.
The biggest advantage that a tablet has over other devices while on vacation is that it is literally designed for media consumption - meaning that it has a variety of apps designed to keep you fed and happy with YouTube videos, Netflix, and other apps. However, there are a couple of things that you should be aware of if you are bringing your tablet with you on vacation.
Tablet's Aren't Beach-Proof
You're soaking up the sunlight on the beach, with pearl-white sands sifting between your toes. A sweet, salty breeze blows inland from azure waters. You take your tablet out and start reading an ebook, but then the wind picks up and sand goes everywhere - in your eyes, nose, and more importantly, your tablet. Or perhaps a massive wave rolls up to shore and splashes you, and saltwater damages your tablet. All of a sudden, your vacation turns from relaxing to rage-filled.
In order to prevent this, you need to utilize the technologically-advanced plastic zip-lock bag to keep harmful sand from getting into your tablet. You'll be able to use your tablet through the plastic bag with little risk of actual damage. It won't do much against water, but hopefully you know better than to sit in the ocean with any piece of expensive technology.
Hotel WiFi is Shoddy, at Best
Wherever you find yourself this summer, whether it be in exotic Cancun or the Hawaiian islands, it's safe to say that your hotel Internet access won't be good enough to let you enjoy the many wonders of the Internet. Even worse, the security of these networks is particularly concerning, especially for a business owner who uses their tablet for both work and play.
In order to prepare for these daunting wireless conditions, you need a network that nobody else can access. One solution is to use a virtual private network (VPN) solution from Business Solutions & Software Group to secure your network, be it for fun or for business. You'll be able to work knowing that you aren't sharing your network with hackers and other malicious entities.
As for the crummy wireless connections that you might run into while traveling, you can equip yourself with a wireless hotspot device that utilizes your mobile data plan. Devices like these act as wireless routers that you can connect your laptop and tablet to, instead of utilizing someone else's network. This gives you more privacy and typically ensures a more reliable connection.
It's Called Vacation Time for a Reason!
Perhaps the most important part of bringing your tablet on vacation with you is to not forget that you're on vacation. Don't work too hard, and take some time to relax. Enjoy it! You've earned it. We're sure your company is fine without you for a week.
And don't forget to put your tablet or smartphone down from time to time, and take in the exotic atmosphere. After all, the entire reason you went on vacation in the first place was to get away from the technology you live and work with on a daily basis, right? Relax - your tech isn't going anywhere.
By taking advantage of these three tips, you're guaranteed to have a fun and enjoyable vacation. For more tips and tricks, call Business Solutions & Software Group at (954) 575-3992 - we'll make every day at the office feel like a vacation with productivity-increasing software. Your technology will work for you when we're through with it!