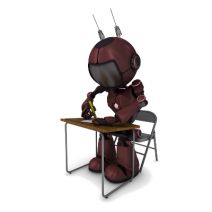 To maximize your business' communicative abilities, you need to produce content. Content is found almost everywhere and it is an essential variable in every form of written communication. Innovators don't miss out on the importance of content, and have developed content-writing software. Yet, this poses an important question: can a robot truly imitate prose written by a human?
According to Slate, many organizations, like The Associated Press, Edmunds, and Yahoo, have turned to automation processes for producing content. How can you tell that this article wasn't written by a robot? Maybe you can, or maybe you can't. Either way, the point remains that there are some things that robots can't do, and writing, thinking, and acting like a human are a few of them.
At least, for the moment these statements are true. It's fairly easy to tell when a robot has composed an article. Humans have the ability to think like humans, whereas computers don't. They are limited to what is happening, not why it is happening. We, as thinking creatures, have the capacity and desire to understand why things happen and learn from them.
What does a computer have? A ton of computing power and the ability to display data quickly and efficiently; two entirely separate roles, almost to the point where it's insulting to even compare the two. Until computers can think and act like human beings, they will not cross the metaphysical existence threshold into being.
The Benefits of RoboWriting
While a computer doesn't have that deep emotional attachment to its work that many writers and journalists have for their writing, there are arguably some benefits that computers have over human writers. For one, the computer is most adept at running data and information. It can report cold, hard facts in a clear and concise manner. Computers are much faster than a human writer, and with the proper amount of work and input, they can shell out stories like it's nobody's business.
The overall cost of having a robot (a machine with software) write articles is that the cost margin is very close to zero after the initial cost of building and installing the software. You don't have to worry about breaks, sick days, or other problems that could hamper a computer's work attendance. A computer can write a story in no time at all, and then write another, and another. Computers aren't meant to write complex, opinionated articles. They are good at writing the kinds of articles that humans dislike writing, and they suit this role marvelously.
Benefits of Human Journalists
What it basically comes down to is whether or not a computer can replicate the human mindset, which it can't. As mentioned previously, a machine can't feel the text that it is producing. It doesn't have a personality, and it can't connect with other humans on a fundamental level the way that a real human being can.
A machine can't tell what a human wants to read. Only a real person can really know what is interesting or not. A droll, monotone article isn't going to attract readers. What humans can offer is a bit of flair and excitement--something in the article that makes the reader want to read it.
A computer also doesn't have the cognitive capabilities that a human does. It can't make connections or understand context of a broader idea, nor can it call upon real-world, human thoughts and ideas that can connect the writer to their audience via shared experiences. Humans can be opinionated and share these thoughts with an appeal for responses, while computers have no such opinion or free-thinking to share.
Can Computers and Humans Coexist?
The two have their differences, but they can most certainly work together to achieve a greater good. Computers can be used for small briefs, while humans can add context and make connections in addition to adding a little bit of personality to the work.
Be sure to let us know in the comments what you think about robot writers, and whether you think this article was written by a computer or not!