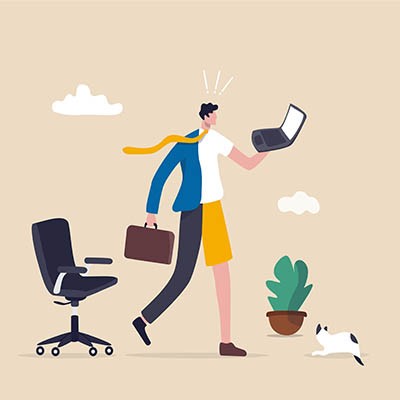 Thanks to the circumstances surrounding the past few years, the hybrid workplace is something that has grown in popularity and value. The benefits and flexibility of working remotely has become much more pronounced for both employees and employers, and it seems like the hybrid workplace is not going anywhere. All that said, there are still hurdles to overcome, so let's find out what they are and how to overcome them.
Not Everything We Use is Compatible With Hybrid Work
Many businesses rely on tools that work perfectly in-house, but sometimes these tools do not translate well to remote work. Hybrid work isn't necessarily an option for these businesses. Organizations that fall into this category will need to shift their focus to tools that are more reliable in both types of environments. Solutions like the cloud, digital communications, and mobile solutions must become commonplace if you are to sustain a hybrid work environment. Security must also become a priority to keep your remote workers secured no matter where they are.
Hybrid is Currently Viewed As a Half-Measure to Keep Employees Local
Remote means that employees can technically work from anywhere, but with the hybrid work model, employers still require a physical presence on-premises every so often. This keeps employees "leashed," in a sense, meaning that they cannot move out of the area on the off chance they need to go to the office. This gives employers the power to test the waters, so to speak, before diving in head-first into full remote work. These practices might be understandable, but they are not going to help a company stay competitive when their competitors offer fully remote positions.
Labor Laws Focus on the Employee's Location, Not the Employer's
Current labor laws dictate that the location of the employee is the one that matters, not the location of the employer. It doesn't really matter where the employer is located as far as the employee is concerned, as they might travel for work purposes, live in temporary housing, or break with conventions in other ways. In fact, some folks who work fully remotely don't even have a permanent address, instead opting for the so-called digital nomad lifestyle. These developments have led to calls to change the way that labor laws are written to better reflect the employer's location.
Culture and Management is Lacking for Hybrid Workers
A lot of businesses struggle with managing workers who are not in the office all the time. For example, job performance is one aspect of remote employment that must be adjusted, and meeting times might need to be changed to accommodate time zone differences or schedules. The onboarding process might be drastically altered, and criteria for promotion might also be different from that of an in-house employee. Policies will need to be implemented in order to standardize processes so that hybrid work can happen in an equitable manner to in-house workers.
Hybrid work does not have to be a serious problem for your organization. If you want some help with the many hybrid or remote workplace considerations that we mention in this blog, Business Solutions & Software Group is happy to assist. To learn more, reach out to us at (954) 575-3992.